Obituary for Bessie Jo Reed
Bessie Jo Lee (Walker) Reed was born in Austin, TX on January 30, 1927 to Ira Jerome Walker Sr. and Grace Dovella (Wilson) Walker - aka Honey. Two month's shy of Bess' sixth birthday, she was a sister for the 2nd time.. first to Cora Jean in 1930 and again in 1932 to their baby brother, Ira Jerome Jr. When Bess was 10 years old, not wanting to leave her Austin, TX family, the Walker clan of 5 relocated to Denver per the suggestion of their father's uncle Jesse who already lived in Denver, CO. Ira Jerome Sr. - their father and head of household - had hopes of finding better, more lucrative work out west. After staying with uncle Jesse for about one year, the Walker's moved to 2145 Franklin St, Denver, CO 80205.. purchased then in 1938 for $1000! They settled in to build their lives and establish their Denver roots...

Grace (Honey) found the family's church home at Scott United Methodist Church, at that time located at 22nd and Ogden St. Church and school needed to be in walking distance so Bess attended Whittier Elementary. During those younger years Honey would always tell her 2 daughters to "make sure you look after your younger brother.." One story Bess often told is when their little brother was being bullied on the playground and she and her sister Cora put a can of "whoop-ass" on the individual who was picking on Jerome.. needless to say there were no more problems him! That precedence would last throughout the rest of their lives. After elementary, Bess attended Cole Junior High and graduated from Manual High School in 1944. Thereafter she enrolled and graduated from Barnes Business College which later aided in her career as a secretary employed with many different government departments. Finally retiring after 30 years of devoted service from department of OSHA (Occupational Safety and Health Administration) as an executive secretary around the age of 65.
At the tender age of 21, she embarked upon her first marriage with Paul LaMarque Robinson. Unfortunately, she became a wife and a widow in less than 24 hours.. After this tragic event of her 1st husband passing away on their wedding night from being over anesthetized during surgery from an accidental gunshot wound to his knee, a few years later Bess would marry a second time to William (Bill) Holt. From this union her firstborn, Larry T. Holt entered the world on January 22, 1950. This marriage would end in divorce within a few years and shortly thereafter she met and married Lee Vernon Reed. They welcomed a baby girl, Carol Lynette Reed, on August 10, 1953. They would reside at 2650 Fillmore St. where this family unit lived for 10 years during the kids' younger years. Her next residence was also in northeast Denver across from the YMCA (called Sportland at the time in 1968), this would become her longest residence as well as her last. There she would experience welcoming her two granddaughters into the world, Dana Gail Holt on January 10, 1970 and Lynette Marie Reed 5 and a half months later on June 22, 1970. At this residence she experienced her daughter Carol Lynette dying from systemic lupus erythematosus (at the time a life threatening arthritic disease) on November 4, 1974 at the very young age of 21, leaving behind her 4 year old daughter Lynette Marie. Bess would then adopt Lynette 1 year later (finalized December 22, 1975) to raise legally and out of love, as her own daughter. Bess' marriage to Lee V. Reed would later end in divorce, they were married just under 30 years. She was no stranger to death as she aided in the process of burying both of her parents, her young niece (Ginger Rae), her two sisters-in-law (Yvonne lovingly known as Vonnie and Evelyn loving known as Boots) and later her baby brother and best friend, Jerome who passed away just under 6 months ago on October 27, 2017.



In her younger years, Bess loved to dance! She also loved to hide away and read, later she grew to really enjoy her National Geographic issues. Gardening in her back yard was a true passion as well as sewing and traveling to various destinations, near and far, with friends and family. She enjoyed listening to contemporary jazz & taking trips to the mountains.. One of her favorite sayings was "I won't let any grass grow under my feet!" She loved action and comedy movies, and TV shows.. a few of Bess' favorite actors were Sidney Poitier [They Call Me Mr. Tibbs], Omar Sharif [Lawrence of Arabia] and Billy D Williams [no specific movie, she just enjoyed all that eye candy]. On the small screen she liked to watch M.A.S.H., Dukes of Hazard, Dallas, Sanford and Son, Judge Judy (along with all the other 'judge' shows), and Family Feud with Steve Harvey. But most of all, she loved making sure her family ate well! Bess' most prominent attributes were strength, adoration, wisdom, reliability, tenaciousness and the love of all her family members.
With her mother. Honey's religious foundation, Bess led a faith based life. She made sure to give her children a solid religious foundation with the opportunity to allow them the freedom to choose their own spiritual path. She consistently maintained her faith and prayers as she stayed strong and led a beautiful life, one might never know she battled high blood pressure since her early 30's. Throughout her last couple years of life she would complain of constant dizziness and increasingly higher blood pressure readings. Bess never lost the will to try to find the right medication combination through several doctor appointments and many different doctors, her quest was always to "feel like herself again so she could get movin!" On April 14, 2018, Saturday morning at 3:30am she was rushed by ambulance to Rose Medical Hospital because of chest pain. At the hospital a CT scan would reveal an aortic dissection (or rupture) near her heart. Surgery would have been too intense on her 91 year old body therefore Lynette made the decision to go the route of comfort care.. three hours later she passed away in the emergency room with the blessing of a quick and fairly painless but intense struggle. Bess is survived by Larry Holt (Lulu) - son, age 68; Lynette (Reed) Brooks (Recardo) - daughter, age 47; Dana Holt (Garland) - granddaughter, age 48, Marie Brooks - granddaughter, age 11; Keoni Moses - great grandson, age 25; Kekoa Moses - great grandson, age 22; Ryder Anani Osborne - great great grandson, age 7; Cora Jean (Walker) Martin - sister, age 87; Paula Marie (Hicks) Walker - sister-in-law, age 79. Nieces and nephews include Sharon (Lewis) Austin (Walter), Jon Lewis, Linda (Lewis) Cummings (Kevin), Victor Lewis, Daryl Walker, Kim (Walker) Martin (Bishop Robert), Kristy Walker (Darryl/Desi Cortez) and all of their children, and their children's children as well as a host of cousins, in-laws and friends who all loved her dearly as she was a prominent figure in all our lives & the matriarch of the Walker descendants for countless years.
To send flowers or a remembrance gift to the family of Bessie Jo Reed, please visit our Tribute Store.
Previous Events
Visitation
Caldwell-Kirk Funeral & Cremation Services
2101 N. Marion Street
Denver, CO 80205
cemetery
Fairmount Cemetery
430 S. Quebec Street
Denver, CO 80247
family gathering
Scott United Methodist Church
2880 Garfield St.
Denver, CO 80205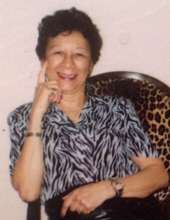 Thank you for sharing your
memory of Bessie
Provide comfort by sending fresh
flowers from our local florist.
No thanks, please don't show me this again.