Obituary for Genevieve Beverly Pelote
The witness to the majesty and goodness of God through the life of Genevieve Beverly Price began in Columbus, GA on July 22, 1935. She was the third child of William Price and the former Myrtis Coleman following her sisters, May Francis and Thirzel, and preceding her younger brother William. Even though her diminutive size earned her the childhood nickname "Pee Wee" those that knew her recognized that she was a giant in terms of faith, generosity, and love for God and for others.
Genevieve did not grow up with wealth and privilege, and she was therefore no stranger to hardship, hard work, and discipline. Early on, she learned the importance of applying herself wholeheartedly to a task and she also became a firm believer in the importance of education.
She attended public schools until she graduated from high school and attended Oakwood College (now Oakwood University), and later graduated as a Registered Nurse from Medical Center of Columbus, Georgia in 1961.
One Sabbath morning at the Columbus SDA church in 1961, a young, persistent soldier named George Pelote noticed the attractive, accomplished student named Genevieve Price who appeared to have such a promising future and a winning, dimpled smile. Recognizing that this persistent suitor would make an equally faithful husband, Genevieve agreed to marry him and became Genevieve Pelote on August 3, 1962.
When the Cuban Missile Crisis led to her husband's assignment to a base in Florida, Genevieve went with him, working at Phillips Memorial Hospital as the evening nursing supervisor. During this time, Genevieve began her own military career as a Neuro-Psychiatric Nurse in the United States Army Reserve. After completing basic training (where she distinguished herself by qualifying as a sharp-shooter) at Ft. Sam Houston in Texas, Genevieve was assigned to the Fitzsimmons Army Medical Center in Denver, Colorado.
In December of 1964, Genevieve and George welcomed their first child, Gisele Genevieve into the world. Genevieve apparently had her work cut out for her watching out for her little baby as legend has it that George's parenting idea to feed the precious baby girl macaroni and cheese as soon as she was brought home from the hospital! Even so, Genevieve managed with great success the transition of becoming a new wife and a new mother, along with a new military career. In 1969, the hard-working couple welcomed their second child, George Emanuel into the world. By this time, of course, she had managed to convince George to wait a bit longer to introduce their new child to the glories of soul food (Both children thrived, and still love macaroni & cheese to this day).
In 1970, the family left Colorado to help the Northeastern Confrence revive a struggling nursing facility in New York called Victory Lake Nursing Center. Genevieve committed herself completely to the calling by working as the Head Nurse alongside her husband who served as the Administrator of the facility. After two years, once the nursing home was established on firmer footing, Genevieve returned to her work at the Veterans Administration at Castle Point Hospital in New York. She applied herself in her typical fashion, completing a Bachelors of Science in Nursing degree while working effectively to become the Assistant Director for Education at Castle Point.
Later, after her husband was called to the General Conference of Seventh-day Adventists in the area of Risk Management, Genevieve transferred to the VA hospital in Baltimore to work as the Director of Performance Improvement. During this time she was promoted to the rank of Lt. Colonel in the United States Army Reserve. Genevieve continued her award-winning service at the VA Hospital in Baltimore with distinction until she retired in 2005.
Genevieve was also a powerful asset to the community where she lived. Genevieve worked as a camp nurse at Victory Lake Camp during summer for many years, and also served on the board for the American Cancer Society. Beyond that, she served as a nursing instructor at Dutchess Community College and on the Board of Cooperative Educational Services programs in Poughkeepsie, New York. This powerful servant of God shared her gifts as church clerk at Trinity Temple Church, a Girl Scout leader, Pathfinder leader, Deaconess, church organist, Sabbath School Superintendent, and many other roles. After moving to Maryland, Genevieve devoted her time to supporting individual church members, various chuch offices and working with the community services program at the Glen Burnie Seventh-day Adventist Church.
As mush as these accomplishments demostrate the great strengths that she had been given by God, her true character was displayed in the things that she was doing outside of the public eye. There are many who have experienced her profound and quiet generosity as she was constantly working to support God's purposes in the lives of others; whether it was encouragement, prayer, money, or personal assistance, Genevieve was a fierce advocate for those who were seeking to better themselves. Among those who know this best are the dozens of adopted family members that she insisted be brought into her home to live under her care. Her home was nearly always home to foster children, exchange students, foreigners adjusting to a new culture and all manner of people who were troubled and found themselves in need. Genevieve worked hard to make sure that she would always be a source of encouragement and support to those who she felt she might help.
Genevieve also kept the angels busy as she invested in her family through prayer and action. Every night, she could be found in prayer, on her knees, pleading on behalf of her husband and her children for safety and salvation. She demonstrated true love by insisting upon the disciplines of cleanliness, and faithfulness to duty in her household. If you lied in her home for any amount of time, whether you called her, "Mom", "Aunt Gene", "Genevieve", or "Mrs. Pelote"you would most certainly learn how to wash dishes or share in the duties of the home. She believed in practical expressions of love for family, and she made the personal effort to lead the way. Each day of the week, she would insist on family worship, and on Friday evenings, Genevieve would gather everyone around the family piano for a special time of worship singing hymns together in praise to her God.
Not all was work and duty, for Genevieve, however. Geneieve had a great love for her husband and children, collecting dolls, ice cream, and travel. God allowed this unassuming black child of the 30's to collect dolls (and enjoy a good scoop of ice-cream) from places all over to world! With various members of her family in tow, Genevieve traveled to far locations such as, Alaska, Hawaii, South Africa, the Philippines, Brazil, Germany, France, Great Britain, Puerto Rico, Japan, Hong Kong, and many others!
After a lifetime of using her gifts in service to God and others, Genevieve was granted the painful mercy of surviving a debilitating stroke in 2012. After serving so many in military hospitals over nearly three decades, she and her husband now felt grateful and blessed for the excellent care they received at the Walter Reed National Military Medical Center, in Washington, DC.
The stroke deprived her of a great deal of her independence but not of her characteristic spunk and spirit. It also allowed her to experience the tender kindness of Christ through her husband who quickly retired from the General Conference in order to support the woman who had worked faithfully by his side in service to God for so many years. Even with her unwelcomed loss of independence, she still maintained the ability to completely capture the hearts of her husband and family.
In late October 2018, Genevieve indicated a strong desire to travel to Nairobi, Kenya to visit their son and his family as they served in the mission field for the Seventh-day Adventist Church. Her final ministry at church was cheering her son on as her preached to the congregation at the Adventist University of Africa Church in Nairobi. At the invitation of her daughter in law Karen, Genevieve spent a lively day with her husband, and the following Wednesday, shopping in Nairobi and enjoying a little of her favorite ice cream flavors.
Under the tranquil sunrise on Advent Hill in Nairobi, on November 1, 2018, God allowed Genevieve to find complete rest in Him with her persistent, faithful soldier George, still right by her side.
Genevieve is survived by her husband, George Pelote of Parker, Colorado, her brother William Price of Glendale, Maryland, her children, Gisele Fields who serves as a teacher in the Seventh-day Adventist School System in Atlanta, Georgia; Emanuel Pelote, a church administrator in the East-Central Africa Division of the Seventh-day Adventist Church,12 grand children and 3 great grand children.
All who knew her will surely miss the ways that God revealed Himself through His daughter, Genevieve. It was certainly her prayer that she would fellowship with all of us who loved her and many more when she rises again in praise to her King in the Earth made new.
To send flowers or a remembrance gift to the family of Genevieve Beverly Pelote, please visit our Tribute Store.
Previous Events
Visitation
Caldwell-Kirk Funeral & Cremation Services
2101 N. Marion Street
Denver, CO 80205
Service
Park Hill Seventh-day Adventist Church
3385 Albion Street
Denver, CO 80207
cemetery
Ft. Logan National Cemetery
3698 S. Sheridan Blvd
Denver, CO 80235
family gathering
Pending
1
Baltimore, MD 21201
The family of Genevieve Pelote is planning a memorial celebration in the Washington/Baltimore area for December 16, time and location to be determined.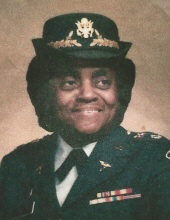 Thank you for sharing your
memory of Genevieve
Provide comfort by sending fresh
flowers from our local florist.
No thanks, please don't show me this again.