Obituary for Bishop Earl O. Holiman, Sr. D.D.
Bishop Earl Oliver Holiman was born in Indianapolis, IN on August 15, 1930. He was the youngest of thirteen children born to William Walter and Lydia Riley-Holiman. Earl was saved and filled with the Holy Spirit at the age of eighteen. At which time his stuttering problem was miraculously healed!
After graduating from Chrispus Attucks High School in 1947, he served in the United States Army for two years. During his military service, Earl studied at the Medical Field Service School at Brook Army Medical Center in Fort Sam Houston, TX and in January, 1953, received his Certificate of Pharmacy. While stationed in Germany, he worked as a dental assistant and also learned to play the piano which fostered his love of music and singing.
He met his future bride and love of his life Aurelia J. Minton at Christ Temple Church in Indianapolis, IN and they were united in holy matrimony on December 23, 1950. Shortly after his marriage to Aurelia he was called to the ministry. He served in Paulding, OH for two years and was later asked by to be the pastor of Christ Temple Church in Bloomington, IN. During this time Earl and Aurelia were blessed with three children, Vilia Marie who sadly passed away in early infancy, Belinda, and Earl Jr. In 1977 they were blessed with the birth of their only grandson Eriq.
In pursuit of higher educational endeavors, Earl took courses from the Aenon Bible College in Indianapolis. Later he went on to receive an Associate Degree in Sociology from Metropolitan State College of Denver in 1972, and his Bachelor of Arts Degree in Sociology from Metropolitan State College in 1976. By 1988, Earl had received a Bachelor of Arts Degree in Biblical Studies, a Master of Arts Degree in Christian Education, and a Doctorate of Divinity Degree, all while attending the Family Bible Institute of Denver, CO.
In 1959, Earl and Aurelia obeyed the call to minister in Denver, CO. In February 1965, they founded Bethsaida Temple Revival Fellowship. The first place of worship was in a storefront building at 3100 Gilpin Street. The church purchased a building in 1968 at 2801 Milwaukee Street and enjoyed worship and warm fellowship there for ten years. In June of 1979, they purchased the land at the corner of 37th Avenue and Colorado Boulevard and began building a House of the Lord. Pastor Earl was very instrumental along with other members in the actual construction process. While the edifice was under construction, the church members worshipped at 3400 Albion Street for four years. God later blessed the new church to be completely remodeled and the sanctuary expanded in 1996. The church membership grew steadily in the years that followed, and Bethsaida was later renamed and reincorporated as Bethsaida Temple Christian Center.
Pastor Earl's keen business acumen and financial wisdom enabled the church to purchase seven homes on Harrison Street which provide living accommodations for members of the church. The church also purchased and later sold the former District 2 police station property at 36th Avenue and Colorado Boulevard which is now the new Walgreens drugstore.
Pastor Earl received distinguished honors from the city of Denver's highest officials. Former Mayor Wellington Webb issued a Proclamation of Celebration on September 29, 2000 and Mayor John Hickenlooper proclaimed November 11, 2005 as "Pastor Earl and First Lady Aurelia Holiman Day". In October 2000, Pastor Earl received a Global 2000 Chairman's Council Board Certificate from Morris Cerullo of the World Evangelism Board of Directors. On July 12, 2001, Pastor Earl was ordained as Bishop by the Fellowship of Christian Believers of Portland, Oregon under the leadership of Bishop Grace Osborne. On May 25, 2013, Bishop Holiman and his wife Aurelia received the Soldiers of the Cross Plaque presented by Christ Church Apostolic, Inc. Most recently in September of 2017, after many years of Bethsaida Temple Christian Center operating as an independent, non-denominational church entity, he made the decision to bring the church back to his own childhood roots by placing it under the oversight of the Pentecostal Assemblies of the World (P.A.W.) under the leadership of Bishop Charles H. Ellis III.
Bishop Earl Holiman wore many hats as a Husband, Father, Grandfather, Pastor, Bishop, Teacher, Mentor, Community Leader, dear friend and anointed Man of God. Many people knew him as Brother, Pastor or Bishop but to know the gracious and humble man Earl Holiman was to truly love him.
He celebrated 67 years of marriage with wife Aurelia and demonstrated so much love, compassion, and generosity to his family and the beloved church he founded and shepherded for nearly 60 years.
He mentored a number of Christian men and women who went on to establish their own churches in Denver and surrounding areas. His sound preaching, unwavering commitment to the truth and inerrancy of the Bible, godly Christian character, genuine warmth, gifted oratory, wisdom and strength were an inspiration to all that knew him. Bishop Holiman also possessed a great sense of humor, loved to play golf and was a delight at Bethsaida's annual church picnics.
The Pastor & Wife Appreciation Banquets were opportunities for others to give back some of the love and appreciation that he consistently gave. The 50th Anniversary Banquet held in 2015 was a milestone and he was honored not only by many across the metropolitan area but from across the nation as well.
Bishop Earl O. Holiman deeply cherished his wife, family and spiritual family. He will be greatly missed but we rejoice, celebrate, and thank our Lord and Savior Jesus Christ for the wonderful life, ministry and legacy of this truly remarkable man.
Bishop Earl O. Holiman departed this life to the embrace of the Lord on July 5, 2018 in Denver, CO. Preceding him in death are his parents; William Walter and Lydia Riley-Holiman, siblings; Walter, Harold, Norrell, Carl, Marion, Virginia, Paul, Esther, Elizabeth, Louis, Rudolph, and Lovey.
Those left to cherish his memory are his wife Aurelia Holiman, daughter Belinda Cook, son Earl Holiman, Jr., grandson Eriq Cook, all of Denver, CO; and a host of other family members and friends.
"The will of God will never take you where the grace of God will not protect you."
To send flowers or a remembrance gift to the family of Bishop Earl O. Holiman, Sr. D.D., please visit our Tribute Store.
Previous Events
Visitation
Bethsaida Temple Christian Church
3930 East 37th Avenue
Denver, CO 80205
Service
Macedonia Baptist Church
3240 N. Adams Street
Denver, CO 80205
Bishop Holiman will lie in state from 9:00-11:00 A.M.
Graveside
Fort Logan National Cemetery
3698 S. Sheridan Blvd.
Denver, CO 80235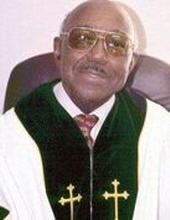 Thank you for sharing your
memory of Bishop Earl
Provide comfort by sending fresh
flowers from our local florist.
No thanks, please don't show me this again.